iTero® Element™ Digital Scanner
Fully Digital Orthodontist Near Me

The iTero Element Scanner is a cutting-edge digital scanning technology that eliminates the need for uncomfortable traditional alginate impressions—no more goop in your mouth! We can digitally capture a detailed 3D model of your teeth and gums with our iTero Element Scanner. An iTero Element digital scan is not only more pleasant than the previous putty-based impressions, but it is also faster and produces more precise images.
You won't have to worry about any more goop or gagging while getting fitted for your orthodontic appliance. The digital impression system is very fast and gives an accurate scan for superior diagnostics. We use this system because it is ideal for all types of braces, including Invisalign® clear aligners and retainers. It will also allow you to see a simulation of your potential post-treatment smile with the Invisalign Outcome Simulator.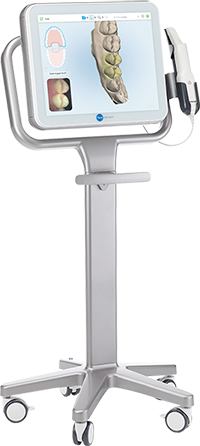 How Orthodontic Treatments Work
Orthodontic appliances are made of metal, ceramic, or plastic. They may be removable or they may be brackets bonded to the teeth. By placing a constant, gentle force in a carefully controlled direction, braces slowly move teeth to the proper position.
Gone are the days when a metal band with a bracket was placed around each tooth. You can now choose clear or metal brackets and, in some cases, the color of your appliance. Wires are far less noticeable, and the latest materials are designed to move teeth faster with more comfort. Today, any age is a great age to wear braces! 
The Digital Scanning Process
Your orthodontist will use the iTero Element Scanner's wand to acquire photos of your teeth and gum tissue during the scanning process. You are free to breathe and swallow normally. You can even take a break in the middle of the process if you need to sneeze or ask a question.
We can utilize the iTero Element Scanner to create a 3D model of your mouth that we can use with any orthodontic services, including the Invisalign Outcome Simulator, to show you what your new smile might look like. 
Digital Scanning for Orthodontics Near Me – Farmington Hills Digital Orthodontist – Affordable Orthodontics in West Bloomfield